Happy Tuesday!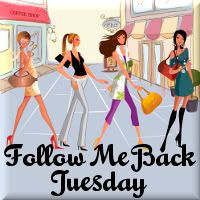 If you're here from Follow Me Back Tuesday, Welcome!!
(If you're not, Welcome! Click the link below to join in!)
Good to see you all! Follow Me Back Tuesday is a great way to meet new bloggers and get some new followers! I love finding cool new blogs to read everyday, so this is right up my alley.
Follow Me Back Tuesday
is hosted by Survey Junkie, Little Yaya's, Review Retreat and Boobies, Babies & A Blog!
Thanks so much for stopping by to visit! I hope you'll follow and come back again soon! I have a CD & Tshirt giveaway going on now for a new band I just discovered called One eskimO. If you like music, check them out. Their sound is really cool and catchy.
Enter the giveaway
too to hear for yourself! :)
Be sure to check out the
list
of bloggers participating and visit some of there blogs!