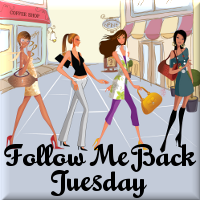 I had a pretty busy weekend and I'm just getting back online now. So, now I have to play catch up. I hope you all had a wonderful holiday weekend! It was pretty hot here. We were car-less because of a mix-up with the car rental place, so we biked to dinner on Sunday night and walked to see the fireworks. It was really fun and nice to get some exercise, but I'm paying for it today. I can only imagine what my legs will feel like tomorrow...
But anyways...it's Follow Me Back Tuesday!! Welcome! Follow Me Back Tuesday is hosted by the lovely ladies at
Little Yaya's
,
Survey Junkie
,
Review Retreat
and
Boobies, Babies and a Blog
! FMBT is a great way to discover some great blogs and to gain some new followers! If you want to add your blog to the mix and get in on all the fun, start at one of these blogs, check out the Linky and get to following! :) This week's bloghop is also being guest-hosted by Jenn from
A Daily Scoop of Chaos
. Check out her blog too!!
If you do decide to follow me, let me know by leaving me a comment, so I can follow you back!!