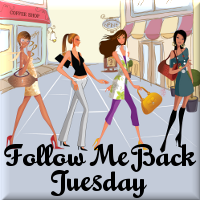 It's Follow Me Back Tuesday!! Welcome! Follow Me Back Tuesday is hosted by the lovely ladies at
Little Yaya's
,
Survey Junkie
,
Review Retreat
and
Boobies, Babies and a Blog
! FMBT is a great way to discover some great blogs and to gain some new followers! If you want to add your blog to the mix and get in on all the fun, start at one of these blogs, check out the Linky and get to following! This week's guest host is
Hiding From The Kids
. Be sure to stop by and say hello to the chief! :)
I'm starting to realize I'm a bit of a perfectionist. This is why my blog redesign is still not up. I keep changing it! I know I told you all it'd be up a week ago! I'll get it up soon though, I promise!
Thanks so much for stopping by! Make sure you enter my
Starbucks card
giveaway while you're here. I'll also have a new Pear Tree Greetings giveaway up this week too, so be sure to check back!