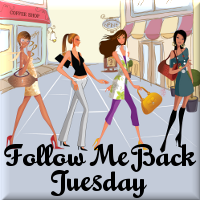 It's Follow Me Back Tuesday!! Welcome! Follow Me Back Tuesday is hosted by the lovely ladies at
Little Yaya's
,
Survey Junkie
,
Review Retreat
and
Boobies, Babies and a Blog
! FMBT is a great way to discover some great blogs and to gain some new followers! If you want to add your blog to the mix and get in on all the fun, start at one of these blogs, check out the Linky and get to following!
This week's guest host is Dave from
Musings of Life.
Be sure to stop by and say hello to Dave! :)
Thanks so much for stopping by my blog! It's great to have you! Feel free to look around and join in the conversations. We're always talking about something new around here. Yesterday, we got on the subject of the reality show, Big Brother. I ranted a bit about the houseguests, lol. Feel free to add your input if you'd like! And if you decide to follow my blog, please make sure you leave me a comment so I can follow you back! Hope you all have a great week!