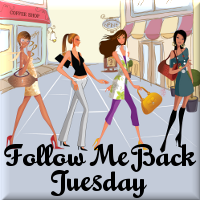 It's Follow Me Back Tuesday!! Welcome! Follow Me Back Tuesday is hosted by the lovely ladies at
Little Yaya's
,
Survey Junkie
,
Review Retreat
and
Boobies, Babies and a Blog
! FMBT is a great way to discover some great blogs and to gain some new followers! If you want to add your blog to the mix and get in on all the fun, start at one of these blogs, check out the Linky and get to following!
Hi everyone! Good to see you!! I hope you're having a good week so far. Over the weekend, we celebrated my boyfriend's birthday by visiting the new Sands Casino in Bethlehem, PA. We had lunch in the
Carnegie Deli
there and the pastrami was just as good as it is in New York! It was quite a treat. Then we decided to play some of the slots. I ended up winning $15 on a 2 cent slot machine! :) It was a fun day. It ended up being pretty rainy, so checking out the casino was a great idea. It's a little strange only having to drive 20 minutes to gamble though. We're used to having to drive 2 1/2 hours to Atlantic City. The only thing I wasn't happy about was the smoking. Yep, you can smoke in there and it's a little gross for a non-smoker. But we were only on the casino floor for an hour or so, so it wasn't too bad. I couldn't spend the whole day in there though.
Anyways...(sorry I was rambling)...be sure to enter my
giveaway
from The Wishing Elephant while you're here. They have adorable onesies and toddler tee's for sale and they're offering one reader any single item in their shop!
Thanks for stopping by! I hope to see you again soon!!