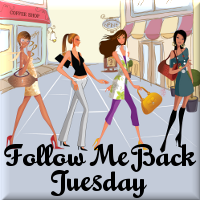 It's Follow Me Back Tuesday!! Welcome! Follow Me Back Tuesday is hosted by the lovely ladies at
Little Yaya's
,
Survey Junkie
,
Review Retreat
and
Boobies, Babies and a Blog
! FMBT is a great way to discover some great blogs and to gain some new followers! If you want to add your blog to the mix and get in on all the fun, start at one of these blogs, check out the Linky and get to following!
Hi everyone! I hope you're having a great Tuesday! It seems that my week is getting away from me. I feel very behind this week. I'm having my coffee now, so that's helping, but I really need to get going with my work today. The weather over the last couple of days has been kind of cool and rainy, so maybe that's it. I need sunshine.
Thanks for stopping by! If you'd like to, please follow me. Leave me a comment if you do, and I'll be sure to follow you back!