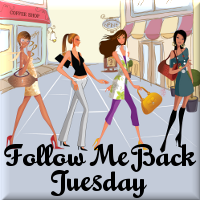 It's Follow Me Back Tuesday!! Welcome! Follow Me Back Tuesday is hosted by the lovely ladies at
Little Yaya's
,
Survey Junkie
,
Review Retreat
and
Boobies, Babies and a Blog
! This week's guest host is Lydia from
Still On The Verge...
Be sure to visit her blog as well! FMBT is a great way to discover some great blogs and to gain some new followers! If you want to add your blog to the mix and get in on all the fun, start at one of these blogs, check out the Linky and get to following!
Thanks for visiting!! I hope you're all having a great week! We're going camping for the weekend on Friday, so we're busy getting ready for our trip. I set up the tent in the backyard today to make sure all the poles and everything were there since it's been a few years since we used the tent. But everything looks good and ready to go. I bought a new air mattress today from Amazon that should be here Wednesday. I took a look at the forecast and they're calling for major temperature drops in the mountains, so I'm also washing sweatshirts and heavier socks. It's going as low as 47℉ on Saturday night, so we're going to need some bundle up clothes. I also have to do some research about how to make coffee on a fire. I've never done it and I'm definitely going to need hot coffee after a night of sleeping in the 40's!
Have a wonderful week everyone. If you're new to my blog, please take a look around and follow me if you'd like! If you do, leave me a comment and I'll follow you back! Thanks again for visiting!!